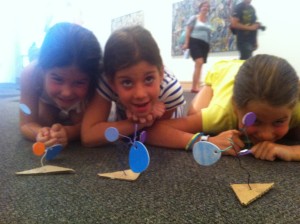 New York City is an amazing resource for modern and contemporary art! As a fine artist, as well as an art teacher of children for 15 years, I have found the question, "What is Art?" a never-ending one.  Hence my goal- to demystify artists and their processes in language children can understand and adults can use.  Art-making is full of choices, which builds a stronger child having made them.  I founded Claire's Creative Adventures over 12 years ago to explore the processes of artists which children may encounter in museums, galleries, or on a walk and to have the tools to decipher and imagine what the artists are thinking.  Developing these critical thinking skills and imagination is paramount to a well-rounded child who may approach all of their endeavors with such joy and confidence as they do art!
Becoming a learner with your child can be a stimulating experience!  In these workshops and tours, adults learn age-appropriate art language and directed questions as well as techniques artists use to create.
Upcoming Museum Adventures Tours:
December 6th, 2013  Impressionism for Kids and Families. (Register by Dec. 3rd.  Limited spaces.)  Ages 6-12 years.
1:30-2:45pm/ 3:45-5pm
January 10th, 2014  Line, Shape and Balance. Create a Calder and David Smith, exploring texture & line with metal & wire.  (Register by Jan. 7th.  Limited spaces.) Ages 3-12 years.
1:30-2:45pm/ 3:45-5pm
@ The Metropolitan Museum of Art  (This is a private group.)
1.25 Hours of specialized museum time for children ages 3 -12 (3-9 kids at a time.)
Unique take-home tour art projects with a wide variety of materials and a gift bag.
Tour artist & leader for the adventure!
Includes multiple projects with myriad materials and a tote bag.
2 Parent-Child Workshops:
Dec. 7th Parent-Child Venetian Mask-Making, create a disquise for NYE!  (Register by Dec. 4th.  Limited spaces.) Ages 5-12 years.
Create the perfect disguise for any party or just to decorate and hang!  During this class, these striking Venetian masks will become colored, adorned with myriad feathers and jewels and able to wear!  Both parent and child will make their own mask.
Jan. 11th Parent-Child DALI Clock-Making in Metal!  (Register by Jan. 8th.  Limited spaces.) Ages 6-12 years.
Join Artist Claire Munday to create your very own Dali-inspired functioning clock! Using embossing techniques on metal, clocks will be designed and constructed to reflect the "melting" of Dali's works.
@ All Souls Church, 1157 Lexington, 10075