Staying in the city for the summer?
Head up to The New York Botanical Garden to check out Philip Haas' massive composite portrait busts, Four Seasons, inspired by Giuseppe Arcimboldo's 16th century painting series of the same name.  The contemporary artist and filmmaker has taken the Renaissance master's famous 2-D paintings and re-imagined them as 15 foot 3-D sculptures of painted fiberglass.
You and your kids will love these fanciful, larger-than-life creations.  Our Art Adventures kids sure do!  The sculptures represent Winter, Spring, Summer, and Autumn. Can you guess which is which?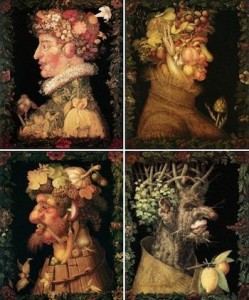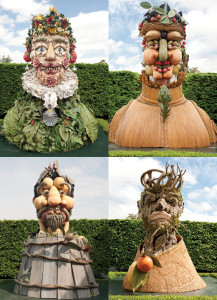 Take a peek at The New York Botanical Garden website for a video of the installation of these sculptures (they had to be assembled on-site.)  The exhibition is open in the Enid A. Haupt Conservatory Courtyard until October 27th.
Philip Haas is an American artist and filmmaker who has exhibited at the National Gallery in Washington, D.C., the Gardens of Versaille, and Piazza del Duomo in Milan among others.
Giuseppe Arcimboldo (1527-1593) was very famous in his own life time as a court painter for the emperors of the Holy Roman Empire. The composite concept of his Four Seasons paintings, laid the foundation for his success and is what he is most remembered for today.  He painted several versions of Four Seasons over several years.