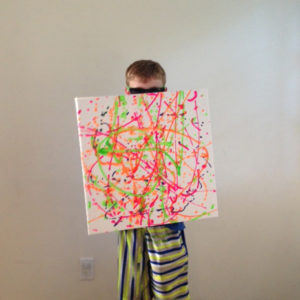 Spring Registration thru Jan. 24th… Art Adventures thru May!
Are you a NYC family wanting to expose your children to the fascinating world of art around you, or to give your child a leg up on a competitive school system?  Do you have friends or family members traveling through NYC seeking a truly memorable cultural experience you all can enjoy?
Claire's Creative Adventures are unique professional artist or theme-based art projects and museum tours that are educational AND engaging!  In a classroom, museum or party environment children ages 2-12 (and adults!) are introduced to modern and contemporary artists and diverse cultures based on current exhibits from the myriad of NYC museums and galleries.
Art processes are demystified as we use a wide variety of mediums and techniques including: pencil, paint, clay, wood, sand, foam, paper-mache, wire, cloth, photography, animation and more. Claire's Creative Adventures organizes all classes, parties, and museum tours and provides all of the supplies, education and entertainment while actively engaging the children in the fantastic world of art from arrival to departure.
"You rock with the New York skyline art project John brought home on Thursday!  He particularly loved explaining to us about the pennies used as manhole covers.  What a terrific project." – S.W.
Located at All Souls Church on the U.E.S. we include:
15-class semesters with visiting artists and museum trips (One class per week.)
1– 1.5 Hours of specialized classroom time in an intimate class size of 5-10 children with professional artists.
Museum Adventures are located at major NYC museums and galleries, include unique take-home tour art projects and 1– 1.5 Hours of specialized museum time for children ages 4-12.  Private groups welcome with reservation.
"YOU DO A GREAT JOB INTRODUCING SOPHISTICATED MATERIAL TO THE KIDS– WITHOUT DUMBING IT DOWN, NOR HAVING IT GO OVER THEIR HEADS. THAT'S A TRICKY BALANCE AND YOU DO IT WELL!  -J.K
Party Adventures are located in your home or designated party venue and includes an engaging art project, leader and all art materials, staff, set-up and clean-up, with additional services available.