Holidays often mean travelling, and with siblings that can mean fights.  At least it was in my family. "You're over the line! Mom, She's on my side! He won't share!"… etc.  Being a child educator, as well as having been hired to actually travel with families to prevent sibling chaos- I offer a very simple tip: The Abstract Line Game. Affordable, functional, creative and effective.
What do you need?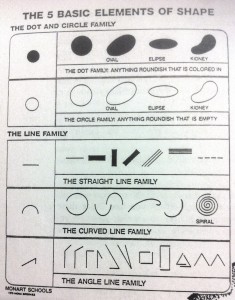 A pad of paper, crayons, markers or pencils, as well as a copy of page 60 of Mona Brookes' Drawing wiih Children.  This covers the 5 Basic Elements of Shape:  The Dot Family, Circle Family, Straight Line Family, Curved Line family and the Angle Line family.  The book is wonderful and great for adult beginning learners as well.  (Even if you don't like art, you'll learn the appropriate language to share with your kids.)
How do you play?  Ms. Brookes goes into detail, but here's a summary:
Each "family" has many options to choose from, and changing colors each line you choose also makes it fun.  Just take copies of the line families with you and one child begins by calling out a family and everyone draws it on their paper.  Leaving options open make for larger differences in the abstract pieces once finished.  Being more specific ("Curved line from edge to edge", "Straight line must touch another object") still will yield a surprising variety of drawings.  That's the fun part!  They'll make drawing after drawing, as they are all so different.  After a drawing, choose to fill in, add patterns …etc., for true individualization.
Compare the drawings and basque in the uniqueness of our creative minds and selves:)