Event Details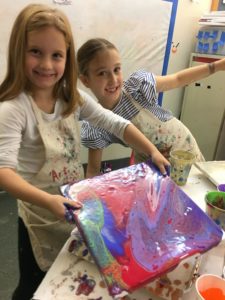 Art Adventures June Summer Camps 2020
June 8-12 / June 15-19  / June 22-26  /  June 29- July 3
4 seperate weeks of fun at All Souls Church, the outdoor courtyards & local museums!  Sign up for one or more weeks at a time:  5% discount for siblings or multiple week registration.
(AM or PM)
Ages: 3.5-6′s/ 7-11′s (We ensure and inspire a successfull collaboration between various ages for CCA camps.  Internships are availale for students 12 and up.)
Monday – Friday  (Fridays we make art @ the Metropolitan Museum of Art, visit their galleries then visit their rooftop installation & eat lunch!)
Mornings 9:30am – 12:30 pm (Children bring a packed, nut-free lunch.)
Afternoons 1:30-3:30 pm
Sprinkled with contemporary, multicultural & modern artists + inspirational projects, these 4 weeks are gonna fly!   (Limited Spaces, Register Early)
Each summer there are new artists and museum exhibitions to explore.  Summer camps are for longer art-making, larger-scale projects and diverse classes each week…Culminating in a wrap-up Friday museum art-making tour to see the artists discussed throughout the week, right here in the Big Apple. Register for any one of our 4 weeks of June camp; Each week is different & siblings are welcome!
Diverse materials are our forte: Paint, clay, wood, metal, fabric, found objects, paint, video, stop film animation and more! Everything to inspire your child's imagination and creativity. Courtyards are used for sketching and outdoor art (weather permitting.) Students enjoy daily easel painting, group murals, free-choice art stations, story telling + inspiring art processes to tantalize and engage every age and skill level.
Even lunch is art!  9:30-12:30 session only: Children bring their own, for a Picnique-Style lunch while engaging in the sharing of individual ideas, art-related concepts, books & visuals of the "Artist of the Day."
Nous parlons Français!  Class size is limited to 10 children – So don't wait!  2-3 teachers attend each day to support your child in confidently creating with freedom and new art skills.
Projects?  Take a peek! SUMMER 2018!  Summer 2017!   Summer 2015!  Summer 2014!  Summer 2013!   Summer 2012!