Event Details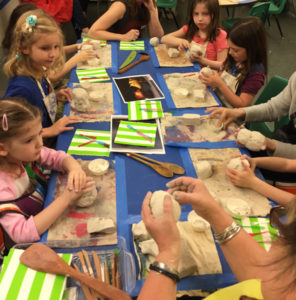 (Min. 3 children/ Max. 12 participants)
You and your child will be introduced to modern and contemporary artists and diverse cultures using a wide variety of media and techniques including (one each class): paint, clay (including kiln-fired), wood, encaustics, dioramas, papier-mâché, wire, cloth, photography, animation and more.
Join your child, side by side, in the experience of learning about art through making hands-on projects using unique materials!
This class will meet at All Souls Church to work on museum and gallery-inspired projects.  Parents may schedule a workshop on a desired day and time, or join our e-list for upcoming workshops!
*Adult attendance required.  $170 per Child and Adult.  $75 sibling fee.
Have your own group?  Want to create your own Adventure?  Click "Pre-Register" and tell us more!